The history of our business began more than 160 years ago. In 1857 Egidius Van Reeth founded a coffee roasting house in Wintam, which he moved to the Hoogstraat in Puurs a few years later. In terms of publicity Egidius was a progressive man. Some of his publications in newspapers, leaflets and advertisements can still be admired in the hotel today.
He was succeeded by his daughter Maria Van Reeth in 1911, who married Joannes Peleman. Together they developed the business further into Van Reeth's Bazaar where more than wines and coffee were sold…
From the large family came another female successor in 1943, Paula Peleman. She in turn married Alfred Van Reeth in 1947. And so the family name 'Van Reeth' was continued after all.
When the coffee roaster Fred Van Reeth and his wife Paula retired in 1983, their son Wim Van Reeth already insured the succession. Now, still at the same location, Wim Van Reeth and his wife Miki Van Camp are already the fourth generation of coffee roasters. They have expanded the range of coffees to 12 Arabica varieties. They also thoroughly renovated the premises in 2006. Instead of the old store, there is now a hotel, a coffee bar and a food store where, of course, the coffee still gets a place of honour.
Meanwhile there is already a 5th generation Van Reeth at work.

12 kinds of coffee
Meanwhile, we sell 12 varieties of Van Reeth's coffee, which is of course still the best in Puurs.
160 years
Celebration of 160 years of existence. For a whole year, customers could enjoy a gift or discount voucher every month.
Death
25 April 2014 Death of Paula Peleman
Death
8 November 2012 Death of Alfred Van Reeth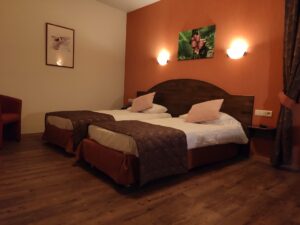 Staying with us
July 2007 Opening of hotel.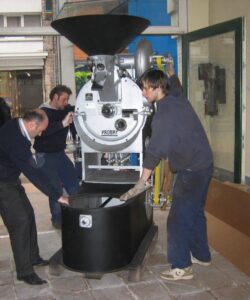 Coffee bar
May 2007 Opening of the coffee bar. The coffee roaster is now prominently at the front of the store, where everyone can admire the coffee roasting.
unstoppable
Renovations continue at building no.19.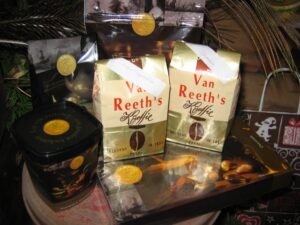 10 kinds of coffee
December 2006 opening of the new store, the start of selling 10 varieties of Van Reeth's Coffee and many other delicacies.
Renovations
start of renovations
Clearance sales
February 2006, start clearance sale of Reeth Sport & Funwear, due to renovations and discontinuation of the sale of clothing & shoes.
Succession assured
Annelies Van Reeth joins the business, the follow-up is guaranteed.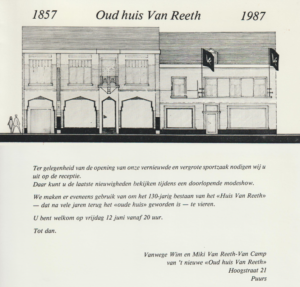 Expansion & Discontinuation
1987 Purchase of property nr.19, extension sale of clothing & shoes, closing the grocery store.
Coffee keeps on selling, Dessert blend and Decaffeinated coffee. Celebrating 130 years of existence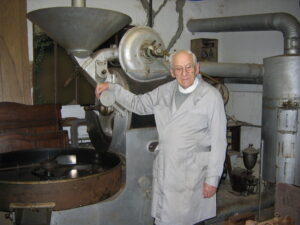 Retirement
Alfred & Paula retire. But Fred will continue to roast the coffee until 2006 and sometimes still occasionally steps in.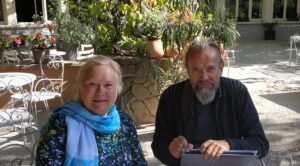 The new owners
Wim Van Reeth & Miki Van Camp are the new owners of the coffee roasting company & the store .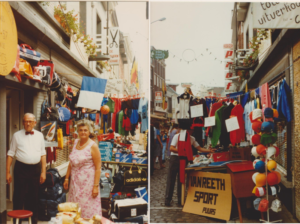 Pukema
Sale of sportswear at the PuKeMa event
Sportswear
Start selling sportswear
Birth
11 August 1979 Birth of Annelies Van Reeth (successor)
Marriage
July 11, 1978 Marriage of Wim Van Reeth & Miki Van Camp
Ivory Anniversary
100th anniversary of Van Reeth's Coffee roasting house
Birth
22 December 1955 Birth of Miki Van Camp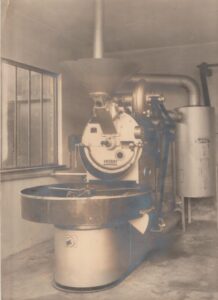 Purchase of the coffee roaster
29 January 1954 Purchase of the Probat coffee roaster, with this machine we still roast our coffee.
Death
6 April 1953 Death of Maria Van Reeth
Birth
July 1, 1952 Birth of Wim Van Reeth (successor)
Marriage
May 13, 1947 Marriage of Paula Peleman & Alfred Van Reeth
New owner
22 February 1943 Paula Peleman becomes the new owner of the coffee roasting house & grocery store at no. 21.
Birth
March 16, 1923 Birth of Paula Peleman (successor).
Birth
November 1, 1918 Birth of Alfred Van Reeth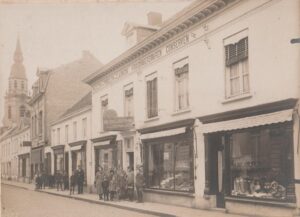 Expansion
14 December 1917 The purchase of Hoogstraat no. 19, for expansion of the store. The store is now a large bazaar.
Death
March 5, 1914 Maria Cools dies
Marriage
May 16, 1911 Marriage of Maria Van Reeth & Joannes Peleman.
New owner
February 24, 1911 Maria Van Reeth becomes the new owner of the Coffee Roasting house & Grocery Store.
Death
1 April 1898 Death of Egidius Van Reeth (69 years old).
Advertising for Calfort Fair / Pilgrimage.
Coffee roaster Van Reeth-Cools from Puurs also wanted to get his share of the fairground visitors. He unpacked in 1895 with the following eye-catching advertisement: "Brave menschen van Calfort. Ik hoop dat Gijl, dit jaar wederom eens zult zorgen, dat de mensen die komen om O.L.Vrouwken te bezoeken een tas lekkere en straffe koffie hebben, met wat goeds er bij om te eten. Ik heb voor alles gezorgd, onze beste kleine koffie kost nu 50 centen per ½ kilo, ik heb er ook van 40 centen, maar als gij er van drinkt zoudt ge kunnen zuur zien naar mij, en dit heb ik niet geerne. Onze beste grote 78 centen, ik heb nog twee andere soorten, maar die verkoop ik bijna niet. Bitteren gewaarborgd zuiver 13 ½ centen de kilo. Ik heb suiker (tamelijk goed) van 37 centen de kilo, maar onze beste kost 46 centen. Gezaagd broodsuiker 42 centen, koppen broodsuiker brut 40 centen. Hollandse kaas (beste) met het bolleken 80 centen de kilo. Gerookte fijne hespen (vrienden lekt ge nog niet aan de lippen) tegen 47 ½ centen. Hespen zonder benen, aan 60 centen, alles goed of geld terug. Krenten 24 en rozijnen 30 centen de kilo. Beste bloem voor 10 kilos 2,15 fr. Brave mensen, Gij ziet wel dat ik om zoo te zeggen, met alles afgeslagen ben. Daarom hoop ik dat Gijl, ook de mensen wederom minzaam en goedkoop zult bedienen. Dan zullen wij de vrienden van O.L.V. alsook der bedevaarders zijn. Allons vrienden, ik zou nog zooveel moeten schrijven; maar later ook nog wat. UEd. Vriend. Van Reeth-Cools."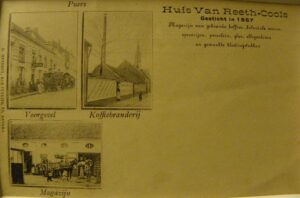 Postcard
Making of postcard, House of Reeth-Cools.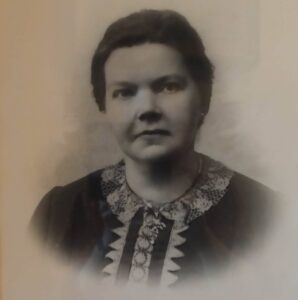 Birth
Birth of Maria Margaretha Henrica Van Reeth (successor).
Relocation
Relocation of the Coffee Roasting House and opening of the grocery store in the High street in Puurs.
Marriage
September 4, 1871 Marriage of Egidius Van Reeth and Maria Cools.
Startup
Egidius Van Reeth starts Van Reeth's Koffiebranderij in Wintam.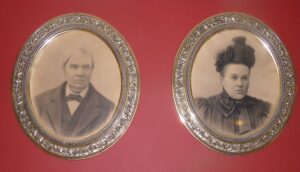 Birth
1 January 1829 Birth Egidius Van Reeth in Deurne (Antwerp).
3 October 1837 Death Franciscus Van Reeth (father Egidius)
18 January 1845 Death Joanna Geyskens (mother Egidius)
1 August 1851 Birth of Maria Cools
28 June 1853 Egidius settled in Hingene as a merchant in flour